General Contractor and Construction Management Services in Michigan
D.J. Maltese Construction Corporation is a family-owned-and-operated business with over 75 years of experience.


Specializing in Industrial, Commercial and Custom Residential Projects and Serving Livingston, Wayne, Oakland, Macomb, and Washtenaw Counties, MI
About D.J. Maltese Construction
Andrew (Drew) Maltese, President
Christopher (Kiff) Maltese, Vice President
D. J. Maltese Construction Corporation is a Michigan Corporation in the practice of construction services including construction management, consulting, and building. The family business was established by Dominic J. Maltese in 1946. Dominic J. Maltese Jr. and Joseph Maltese became very active in the firm in the early 1970's and took over the management and operations of the firm. 

The firm's base of operations is located in new offices at 412 N. Main Street, Plymouth, Michigan, a suburb of Detroit in southeastern Michigan. In 1996, the D. J. Maltese received the Franklin Award for one of the best family-owned and operated companies with ten employees or less. During the 1990's the company grew four-fold to forty people in the late 1990's. After the storms from 2006-2010, the company is now a small firm with a very experienced team. 
Your quest for reliable construction management companies is over. D.J. Maltese Construction Corporation is a general contractor offering construction management, consulting, and building services. Our principal concern is in managing and constructing projects for owners who demand quality service and craftsmanship. Furthermore, we also offer interior design services. 

At D. J. Maltese, our principal concern is in the business of management and construction of projects for owners who demand quality service and craftsmanship. We also offer interior design services.
Our Construction Services Include
• Project Development & Preplanning 
• Project Team Selection 
• Project Monitoring 
• Project Inspections & Quality
Commercial 
We're passionate about what we do. Our commercial services are new construction, renovations and restorations, remodeling, and adaptive reuse. For commercial construction management in Michigan, count on D.J. Maltese.

Industrial
For industrial projects, coordination is key to success. Our years of experience make us capable of tackling all kinds of industrial projects. We offer industrial construction management, new construction, expansion, and renovations.

Residential
Whether you need a custom home or a new addition, we're prepared to make your project come to life. Homeowners can rely on our extensive experience in the construction and remodeling industry.
New Construction




Adaptive Reuse

Renovations

Restoration

Remodeling
Residential Construction
Custom Homes

Additions

Kitchen & Baths

Restoration

Remodeling
New Construction

Expansion

Renovations
Michigan's Premier Construction Experts
Design-Build Services
"Design-Build" services is a key function of D.J. Maltese for customers that want a "Turn Key" approach. This process offers a one person contact, better control of costs and the ability to complete a project in a "fast track" mode.  Design-Build is a one-stop, one contact approach to a project. It works well on projects that need to move fast. Design-Build projects can be cost or quality-driven.  D.J. Maltese Design-Build services include working with our in-house or affiliated architects and designers. This process allows us to get more creative and at the same time value engineer the project as it goes through the design and construction process to minimize cost overruns.
Consulting Services
Dominic J. Maltese, Jr., ASPE, CPE has assisted attorneys as a Construction Consultant and Expert Witness for the past several years. His vast knowledge and experience in construction has and continues to be an asset for legal cases. Since the mid 70's, Dominic has worked in virtually all aspects of the design and construction of buildings and facilities. He has developed condominiums and apartment projects, commercial buildings, club houses, medical buildings and worked in the design and engineering of new construction, renovation, adaptive reuse, hundreds of remodeling projects, upscale homes and manufacturing facilities and building restoration.
Construction Management
Our firm has an extensive track record of successfully managing our projects utilizing this approach. Most of our work is performed within the Construction Management delivery system because this approach fosters a healthy, positive relationship among the team (Owner, Architect and Construction Manager). This relationship provides a "check and balance" system permitting major design decisions to be made on the basis of cost, quality and schedule implications as well as aesthetics and functionality. Construction Management maximizes the opportunity to deliver the highest quality project at the lowest cost in the shortest amount of time.
Estimating Services
Our extensive estimating process is based on years of development and our system includes breaking down a project by individual components, room, floor, interior area, exterior, site, furnishings, etc. and then summarizing the total by Construction Specification Institute (CSI) division to the front of the report. Our estimating services also include value engineering and recommendation of means and methods to provide cost effective results. The estimate includes subtotals for trade and material costs, general conditions, CG overhead (CM fee and indirect administrative cost), contingency that is reduced as the design phase progresses and a total by line item.
Choose DJ Maltese for Your Next Construction Project
D.J. Maltese is a family owned and operated construction company. Our company started out in 1946 as a plastering contractor, by the late '50s we were one of Michigan's largest. With the onset of drywall in the mid-60s my father changed the company into a general contracting company. His work included residential remodeling and new homes. Over the course of the next 10 years the company grew into construction work that included commercial renovation and new office buildings.
Dominic J. Maltese, Jr. (lives in Northville Township) is the owner of D. J. Maltese Construction Corporation, a Plymouth, MI based company. The family business started as a plastering contracting firm in 1946, owned by Dominic's father. In 1865, the firm grew to a general contracting firm. In the 1970's Dominic and his brother, Joe, started working on the firm together and by 1982 they were one of the earliest firms offering construction management services. One of their earliest projects was Garrison Hills Condominiums in Dearborn at the early onset of condo development in Michigan.
In the mid-70s Dominic and Joe joined their father and took the company to the next level. By the early '80s D.J. Maltese was offering design build services and construction management services that were virtually unknown by small companies and being provided only by very large construction companies. Therein they found a niche in the construction industry to service smaller companies with the quality and services provided by larger companies.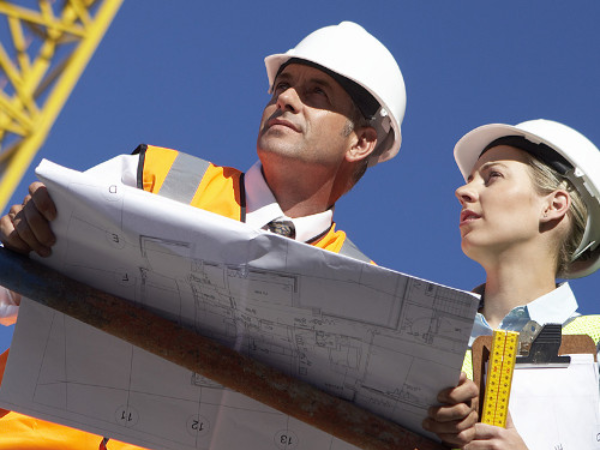 OUR VISION
Over the past seventy four years we have watched the construction industry change considerably. This is even truer over the past ten years. The largest change over the past ten years are three areas of concern. First is the advancement of technology. With this advancement the arena of personal contact and communications is being replaced with emails and texting.  So, people want instant answers and expect to have responses to their texts within minutes.